Introduction
I'm a member of an outdoor website called Lake-Link. Lake-Link features reports, articles, forums and advertisement for outdoor activities throughout the Midwest, although the majority of the activity is in Wisconsin, where Lake-Link is headquartered.
It's a nice site, easy to navigate, with most of the site features free to the public, although there is a "Pro" fee for those who want specific information and privileges not available to everyone.
I am a "Pro" member and enjoy the daily discussions held by that group. We even have a breakfast club which now meets about once a month.
This past Father's Day, several Pro members, one by one, posted a story about their fathers. Many of the stories were heartfelt, poignant memories of their dads, many of whom have passed on.
We thought it would be a nice idea to capture some of the stories on my website blog, to have for "posterity", and also so they can be shared for others to enjoy.
Many of our father's shared similar circumstances and led similar lives, which left an indelible impression on their children.
The members are identified by their Lake-Link "handles", my handle is Ktowne. 🙂
I hope you enjoy the stories.
                                   ***

Snake1
My Dad was born in 1928. He grew up on a Farm in Honey Creek. When he was able to drive, he delivered milk in our area. Then the Korean War started and he was drafted.
He came back from the War and married my mom who lived on another farm in Honey Creek. He went to work road construction at B.R.. Amon & Sons until he retired.
Still remember him coming home smelling like Black Top and sitting at kitchen table and having 1 Pabst. He used to let me have a swig if I got my chores done that day.
He is 94 right now in Memory Care with my mom. Took him a fish fry on Friday for Father's Day. Sister is taking him pizza today. I think he likes Father's Day as long as you don't schedule anything during the Brewers game!!!!!!
                                      ***
Chaw
My Dad was born in 1930. He lived in Chicago and received a full ride to Loyola on a track scholarship. Track and Field was huge in the 1940's. He, along with his 3 teammates, set an indoor world record for relay. The record would be broken again in less than two weeks.
He met my Mother in College and they married and had 6 children. My Dad worked at Sears his entire career. He got up at 4am everyday to make the 537 am train to Chicago and returned every night after 6. My Dad was at every sporting even and was President of my little league.
I'm 1987 my Dad passed at the age of 57. At the time I was too young to realize all he sacrificed for his children. As time passes, I realize more and more everyday what a great Dad I had and I wish I could have told him.
                                    ***
Snagger54
My father was born in 1928, he died in 1986 he was 87.  He made Craftsman tool boxes. I still miss him. Just thought I would share. Happy Father's Day dad!
I was in a hurry this morning so I really didn't get to finish about my dad. He also was in the Korean war with my uncle, he was a paratrooper and a Golden gloves boxer for the US army. Married my mom fort Benning Georgia. Raise five kids without a lot of money. Always had time to take me fishing. We all have similar stories, somehow that's why I think we all get along. Hope everybody had a great day.
                                  ***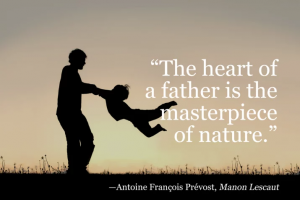 Phishin Phool
Appreciate the posts on the Fathers. Really touching stuff…We lost our Dad in 1965. He was 47. I was 16 and my Brother was 21. Brain CA…back when "they" didn't know what it was…or, how to treat it…Like most of our fathers he had his great moments and his "other" times. Of course, we loved him!!!
                                 ***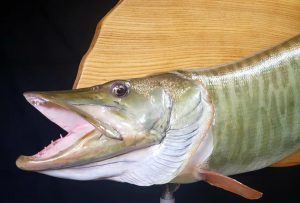 Essox JJ
Dad story. My dad came to Temple Bay Lodge in Canada with my best friend Gary and me in 2011. We had Jeff for a guide. Jeff is also the manager of the lodge. Three of us fished the first full day on our own, and then we had Jeff for the next three day's guiding for us. When we were muskie fishing I mentioned to my dad just for fun to make sure to hold on to the rod if he hooked one because the rod cost $500.  It was an outstanding  year for walleyes. We caught hundreds every day. Catch and release of course. Jeff would put a minnow on my dad's walleye rod, he would catch one, Jeff would take the walleye off and release it, re bait with another minnow almost every cast. This was nonstop at every spot we moved to. After a while dad was bringing in another walleye and BAM the rod bent over and line was being stripped off the reel. I knew instantly that a muskie had grabbed the walleye that dad was bringing in. I put my rod down and grabbed my handy came as fast as I could to record. Dad was able to bring in some line and the fish would take off again. This happened three times. At one point my dad say's I better not drop this rod it's $500. I said not to worry dad it's a walleye rod only $200. Finally, he got the fish up close enough to the surface to see.  Jeff was standing right behind dad and said "that's a huge muskie John". The fish then let go of the walleye. The three of us all at the same time yelled to dad, leave it in the water, leave it in the water so maybe the muskie would hit it again. But it didn't come back. I was standing up front on the front deck and the handy cam doesn't have a polarized lens so I didn't see the fish but Jeff's voice said it all. "That's a huge muskie John ". So that's one of the many memories with my dad. I caught a nice one down by the gold mine that year.
                                     ***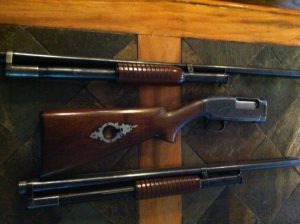 Nihsif
Dad was born in 1923… younger brother Russ and sisters Elizabeth and Patricia… The brothers first claim to fame was posing for a picture with them displaying all the sparrows they had killed with their BB guns at Mitchell Park, Milwaukee… picture ended up in the paper and exposed them as wildlife killers… he still had the clipping… Served in the Korean war as a communication specialist… he brought home a very nice side cutter and knife in a very nice leather carrier… a bayonet that I loved and a bunch of foreign coins from his army travels He took me fishing all the time… that started when I only used a cane pole fishing on the Jones Island pilings, and he taught me how to use a level wind bait casting rod and reel….my grampa's… he even took me when he was going with his buddies who treated me like one of the guys. His dad was not a hunter but my dad was interested and bought 2 used shotguns… a Winchester model 12 and a single shot that had the stock cut down… the gun I learned on. He taught me gun safety and shooting at the farmers field where we rented wood flat bottomed boats to fish Big Muskego for bass and northerns… wasn't unusual to boat dozens of fish using a Johnson silver minnow in black with an uncle Josh pork frog…. great times and he got hunting tips from that farmer… how to set dekes , etc … family was always first, Dad and his brother Russ made the paper again with a double wedding… and it was brothers marrying sisters… so his brother married my mom's sister in a double service… so family tree is more like a stump…lol… I miss him but remember all he taught me and I did my best to pass these values to my 3 boys, men now with their own families… we all go on fishing trips along with other friends… I think I was blessed with a wonderful Dad!
                                        ***

Ktowne
Very nice to hear all the Dad stories.
My dad was born in 1920, raised dirt poor along with 12 brothers and sisters.
Dad's mean old man, Demetrius, only came home to shake everyone down for money and give anyone he could catch a beating.  Dad and his brothers protected his mother and sisters when they could, and took care of most of the family needs.
Dad served under George Patton in the Mechanized Cavalry in WWII. He only went on leave once for the funeral of his youngest brother John, who was an infantryman killed in the war.
Dad was a hard worker who took good care of his family. His favorite activity was perch fishing in Lake Michigan, and he passed that activity along to us kids. Dad died at a young age, but my two brothers and I remember him well, and think of him often.
                                       ***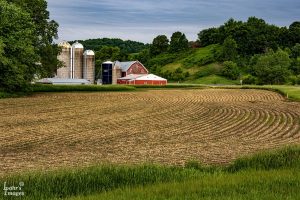 Brent
My father was born in 1940 and passed in 2017.
My father grew up as a farmer, didn't have much, and understood the value of a dollar (which he passed on to my sisters and I)
My father put everything he had into ensuring my sisters and I had it better than he did. There was nothing he wouldn't do for his kids!
He put all of his us through school / technical collage and even helped my sister get her business off the ground. He had a knack for knowing the right thing to do when his kids were in a pickle!
Dad always was and always will be our rock – a truly selfless man.
                                 ***
Please feel free to share Joe's blogs, in their entirety crediting Joe and his guest authors when applicable. Copyright protected, all rights reserved © Joe Campolo Jr