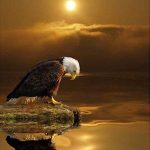 £  Oh sweet bird of youth, when did you slip away?
When we were young, it was not clear that you might leave one day.
€  We had such times on your great wings those days indeed did fly.
And now you're gone we can't recall just when you passed us by.
£  On those strong wings, how we did soar with strength, fine looks and pluck.
They teased with hope, they offered wealth and they offered luck.
€  Now as we pine the hours, musing on our loss,
We grasp at straws to find that strength, that health, that vibrant gloss.
£  While moving on without you, brings us to tear,
Knowing you will not return……leaves us in fear.
€  Oh, please return, old friend of youth,
Without you now we face the truth.
£  Just like you we'll slip away,
Our time here gone, with dreams of yesterday.
                                      ***
Dedicated to all those who have gone before us.

You are welcome to share Joe's poem on Facebook or any other media, in it's entirety with citation acknowledging Joe as the author. Copyright protected, all rights reserved © Joe Campolo Jr.