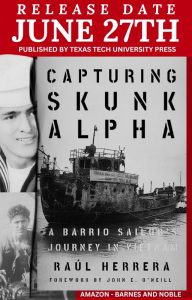 Raul Herrera is a U.S. Navy Vietnam War veteran. Raul served time on Swift Boats and has written an intriguing book about his experience.  Raul has provided us some details about his book, which is available on Amazon and other on-line book sellers.
                                          ***
CAPTURING SKUNK ALPHA
∼Raul Herrera
Descriptive Copy
"Capturing SKUNK ALPHA is quite significant in that it tells of the courage, enthusiasm, and professionalism of those fortunate enough to be known as SWIFT Boat sailors, and the very important role they played in successful operations by the Navy's Brown Water forces during the Vietnam war." William L. Schachte, Jr. (Rear Admiral, JAGC, USN Ret.)
On the evening of July 11, 1967, a Navy surveillance aircraft spotted a suspicious trawler in international waters heading toward the Quang Ngai coast of South Vietnam. While the ship tried to appear innocuous on its deck, Saigon quickly identified it as an enemy gunrunner, codenamed Skunk Alpha.
A four-seaborne intercept task force was established and formed a barrier inside South Vietnam's 12-mile territorial boundary. Ignoring all orders to surrender and as the enemy ship neared the Sa Ky River at the tip of the Bantangan Peninsula, Swift Boat PCF-79 was ordered to take the trawler under fire. What followed was ship-to-ship combat action not seen since World War II.
Capturing SKUNK ALPHA tells the story.
Two years earlier, Raúl Herrera was growing up on the west side of San Antonio, Texas when he answered the call to duty and joined the Navy. This is his story, a deck-level eyewitness account of brave sailors who sailed into harm's way in war-torn Vietnam.
Raúl is assigned to PCF Crew Training and joins a ragtag six-man Swift Boat crew. Their mission – prevent the infiltration of resupply ships from North Vietnam. More than 90-tons of ammunition and supplies were kept from the Viet Cong and NVA forces. Premier Nguyễn Cao Kỳ and Chief of State Nguyễn Văn Thiệu congratulated and decorated the crew for their heroism. The Viet Cong posted a bounty on PCF-79 and her crew.
Capturing SKUNK ALPHA chronicles this unlikely journey from barrio adolescence to perilous combat action on the high seas.
Raúl Herrera is a decorated Vietnam War Veteran. He volunteered for the Navy in September 1965 and received an Honorable Discharge after four years of service. He has written for VIETNAM magazine, Sea Classics magazine and the New York Times. He served as a board director and president of the Swift Boat Sailors Association.
                                              ***
Raul's website:
Purchase Capturing Skunk Alpha on Amazon:
https://www.amazon.com/Capturing-Skunk-Alpha-Sailors-Conflict/dp/1682831736
You are welcome to share this blog, in it's entirety, crediting Joe and his guest writer as the creators. Copyright protected, all rights reserved © Joe Campolo Jr