"Oh Annie, Dream Boat Annie, ship of dreams,
Oh Annie, Dream Boat Annie, little ship of dreams."
∼Heart
                                                  ***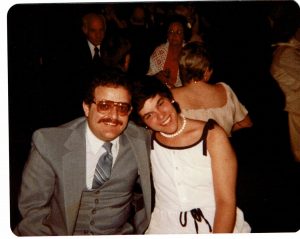 During the two weeks Ann was hospitalized before she passed, she wasn't always able to communicate, but during those times that she was, we reconnected to some of the times in our past when we had many memorable, joyful adventures, and yes, some misadventures as well. I would start the conversations, and Ann would sometimes pick up on the event, smiling, laughing and recalling some of the details.
Ann and I both enjoyed those memories, and some of them are worth sharing.
                        Our Fox River Canoe Trip

We had fun remembering our canoe trip down the Fox River in Southeast Wisconsin, when we were first dating. How the canoe drifted away with Ann in it, while I was "tending to business" on shore. I had to run along the bank at full speed, yelling and hollering directions, as Ann was just a rookie with the paddle at the time. I finally caught up to her at a bend in the river.
And how later, we both capsized the canoe, while climbing back in after a shore lunch. Once again, I chased through the bramble on shore, finally catching up to the canoe and grabbing it, and most of our supplies as they drifted by. Ann was a stronger swimmer than I was, and was enjoying her swim down river, but I grabbed her anyway. Every time we went by that river, over the years, we teased each other about that trip, and how much fun we had.
                                                        ***
                               Man Overboard

We reminisced about the two cruises we took, especially the second cruise where we were involved in a slapstick effort to rescue a man who had fallen overboard on a cruise ship ahead of us, some nine hours earlier. Incredibly, the man was saved, and became a part of cruise ship folklore for the Royal Caribbean cruise line.
                                                           ***
                    Weather Related Adventures
Ann and I mixed it up with many storms over the years, including a blizzard the day our son Billy was born. We crossed paths with three tornadoes in our time, coming through fortunately unharmed, and we touched on each of those incidents a bit.
On a trip to a camping trailer we had near Hayward, Wisconsin we drove into some very bad weather near Mauston, Wisconsin. We were listening to local information on the radio, which alerted us to a tornado just east of town. They didn't have to tell us, however, as Ann and I gasped, just barely missing the massive funnel cloud as we drove through. But whoever was behind us caught hell!
                                                         ***
Now you're roaming endless fields, forever free to run. Listening to the song of the wind beneath the golden sun. Meet me at the rainbow when the time is right. —Christy Ann Martine
                                               ***
                                The Fire

One adventure Ann and I had, took a few years to find humor in, but we eventually did. Some years ago, on our way to a campground in Central Wisconsin, our truck, camper, boat and all of the possessions we had with us burnt up along-side the highway on the 4th of July. The fire lasted five hours, and involved six volunteer fire departments. Although a rather traumatic event, Ann managed to find humor during the disaster, when she told the firemen the ribs in the refrigerator were probably done, if they were hungry.  We made the six O:clock news that day.
                                                       ***
                Yellowstone with an Oriental Twist

Some years ago, we went on a bus trip out west with a Chinese touring company. It was a fun trip, filled with plenty of humor, provided by our Chinese host and the Chinese tourists who made up about eighty five percent of the people in the tour group. Ann remembered how the Chinese tore through all the buffet lines, like Genghis Khan's hordes.
                                                    ***
                                 Crivitz
On one of the days she was hospitalized, Ann recalled one of our visits to Crivitz. Crivitz, Wisconsin was the closest town to a resort in Northern Wisconsin where we often went when Billy and JoAnn were still kids. Nestled on the edge of the Nicolet National Forest, we had many fine times up there, and were often joined by other family members. It is a pristine area encompassing thousands of acres of pine forest, wildlife of all kinds and plenty of rivers and lakes.
Our days there would be filled with outdoor activity; fishing in the early mornings, swimming later in the day, hiking, bicycle riding, and nature rides in the evening. Our family enjoyed those days very much.
In the early afternoon, when Ann and the kids were napping, I would often go hiking through trails in the woods. Some days, when the kids were old enough to be left alone, Ann went with me on the afternoon hikes, and one of those days was truly memorable. It was a beautiful mid-summer day in Northern Wisconsin, the gentle wind hummed as it wisped through the pine trees and the fresh pine air was exhilarating.

Moving from one wooded area to another, we came into a small meadow filled with wildflowers. As we strolled through, we heard the singing of a bird in the adjacent woods. The singing was so beautiful we stood, as if frozen, listening for ten minutes or longer. We never saw the bird, and have no idea what it was, but I always referred to it as a warbler, because I felt any bird that could sing like that, just had to be a warbler.
After a time, the singing grew more and more distant, as the bird moved along to another area. When we could no longer hear the bird, we stuck around for another fifteen minutes or so, hoping the bird would come back our way. When it was evident the bird was not returning, we were saddened.
We returned to that field every day that week, but did not hear our elusive warbler. And year after year, we came back to that same area, hoping to hear our bird again …but we never did. Not hearing our singing bird, that was so beautiful it made you ache, seemingly left a hole in our heart. And though we never heard it again, we were forever grateful, as the beautiful singing is etched into our memory.
                                                  ***
                             Aebleskiver
Being part Danish, Ann and her family occasionally partake in Danish dishes, pastries, and beverages. I myself came to enjoy Aquavit, a Danish liquor, or Danish moonshine, as I call it. 😊

I reminded Ann about the time she tried to make "Aebleskiver", which is a round pancake thingy, cooked in a special frying pan. We were all set to try some of the little devils, which we had previously enjoyed at our local Danish Brotherhood club. Ann prepared them, and cooked them up in the funny frying pan. But instead of turning out light and fluffy, they came out of the pan with the consistency of golf balls.
Ann tried to make the little buggers a few more times, unfortunately they came out like golf balls every time, only missing the blue "Titleist" stamp. After that episode, the funny pan hung on our kitchen wall for a few years, until it mysteriously disappeared, never to be seen again. 😊
                                                        ***
Come back. Even as a shadow, even as a dream. – Euripides
                                                ***
                A nice ending to one last summer

We had another nice summer this past year up at our trailer in Central Wisconsin. Though Ann's mobility was limited, she was still able to enjoy our time up there, immersed in nature and visiting with campground friends.  On many evenings we'd go for our nature ride in the area, checking out the last activities of the wildlife, before they disappeared into the night. On one memorable evening towards the end of summer, we went into one of our favorite spots, a wooded area with a large pond. There was a beautiful sunset, the air was heavy but still, fish in the pond were popping the surface for insects and smaller fish.
I parked in the small gravel boat launch, got my fishing rod out and started casting into the pond. Ann was able to enjoy the scenery and watch from her seat in the van. It turned out to be one of those magical nights, as I caught a northern pike on every cast, one bigger than the other. After each catch, I would hold the fish up so Ann could see it, and she would smile and wave. I threw each fish back, but was having the time of my life, and I believe Ann was to. After a time, an enormous large-mouth bass grabbed my lure. I fought it for a couple of minutes, and it broke water several times, really putting on a show for us. Finally, my line snapped and the big guy got away, but I wasn't upset, just happy for having the big guy on, even for just a short time. Ann was excited to, and just kept shaking her head, saying "wow!"
After our fishing adventure, we continued along on our nature ride. A few years earlier a local family had opened a small wildlife park in the middle of nowhere up there. I always drove past it on our nature rides, because they had two giraffes which you could see from the road. Giraffes were Ann's favorite animal and she always enjoyed seeing them.
It was another fine evening Ann and I had at our happy place up north, and a nice ending to a fine summer.
                                                  ***
Ann is in a better place now, no longer suffering from pain and ill health. And wherever she is, I hope she is re-living some of the joyful times we had, with each other, family and friends.
And just maybe, she'll hear from our warbler again.
                                         ***