*Joe is tapering off his event and speaking schedule. He has enjoyed each and every engagement and is grateful for all of the opportunities he has had.
Discussions about Writing, My Books, War Stories, Manufacturing systems and a few Fishing Tales

I am often asked to recite my poem Sweet Bird of Youth at veterans events and other venues. I also speak about the writing process and my books upon request, as well as the Vietnam War and issues relating to it. (Most folks don't mind some fishing stories thrown in.)
I have spoken to many youth groups, and other groups of all ages.
I charge no fees for speaking; however I do ask for expense compensation if travel is required.
During my career in industry, I spearheaded J.I.T./Lean Manufacturing operations in several companies. I also implemented those activities as a private consultant on a part time basis, and can speak to large or small groups on various topics relating to those processes.
Check out my event schedule and contact me regarding a speaking engagement.
Some of the Speaking Engagements I Have Been Involved With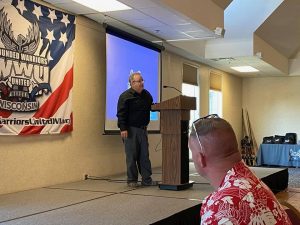 In May of 2021, I was honored to be the emcee at the 1st Annual Wounded Warriors on the Water event banquet in Minocqua, Wisconsin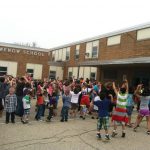 On Veteran's Day 2016 I was privileged to speak at the Grewenow Elementary school of Kenosha, Wisconsin during their Veteran's Day program.
Guest on JoAnn Forrester's radio show "Empress of Biz" August 31, 2016

Guest speaker at Abbot Junior High School, Waukegan, Illiniois