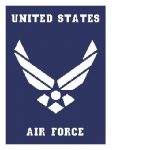 George Dooley and I became friends back in the early 1970's. I was still in the U.S. Air Force stationed at March Air Force Base near Riverside, California, while George had gotten out of the Air Force after having served four years. George was living in Southern California and we met through a mutual friend who was also stationed at March AFB.

George and I at an air show in Washington state a few years ago
George enjoyed a long career in education, both teaching and as an administrator at North Orange County Community College. George and his wife, Diane currently live in Washington state. They enjoy traveling and visiting with friends and family members.
A guest writer of two previous blogs on my website, George has shared his experience from a recent trip, in which he was able to tour the USS Midway, a U.S. Navy Aircraft Carrier.  Please enjoy George's story.
                             The U.S.S. Midway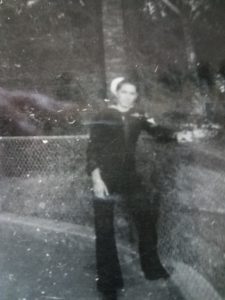 Georges Dad in WWII
In 1966, after graduating from High School, I had a decision to make. (Considering I wasn't going to college or running off to Canada)  My dad, an old Navy man, wanted me to join the Navy also.  However, even though I could swim, I just don't like the feeling of not being able to put my feet down on the sand.  So, I joined the Air Force.
Dad thought that was funny.
 "You don't like the water but are OK way up in the air".
But I was now in the U.S. Air Force and served out my four years in Texas, Turkey and Germany as a Security Policeman from 1967-1971.

I've always enjoyed reading and watching films about the military, and on a recent trip to San Diego, California I had the opportunity to tour The USS Midway.  The Midway, an aircraft carrier, was commissioned eight days after the end of World War II. The Midway was the largest ship in the world until 1955, as well as the first US aircraft carrier too large to transit the Panama Canal.  She operated for 47 years, during which she saw action in the Vietnam war and served as the Persian Gulf flagship in 1991's Operation Desert Storm.  Decommissioned in 1992, she is now a museum ship in San Diego.
                      Significant Dates for the Midway
*On 29 October 1947, Midway sailed for the first of her annual deployments with the 6th fleet in the Mediterranean.
*From 1951 to 1954 she spent her time operating in the Atlantic
practicing maneuvers with NATO forces.
*On December 27, 1954 she set sail for Taiwan sailing around the Cape of Good Hope.
*In June of 1955, the ship sailed for Puget Sound Naval Yard in Bremerton WA., for an extensive upgrade.
*March of 1965 saw her conduct air strikes against military installations In both North and South Vietnam.
*On June 17th 1965 two VF-21 McDonnell Douglas F-4b Phantom IIs flying from the Midway were credited with the first confirmed MIG kills of the Vietnam War. They deployed AIM-7 Sparrow missiles to down two MIG-17Fs.
*The Midway would leave Vietnam and head to San Francisco Naval Shipyard for another upgrade. The Midway would then return to Vietnam in May of 1971 to resume operations. Mining North Vietnamese ports along with the Coral Sea, Kitty Hawk and Constellation, were some of it's tasks.
*Midway remained in Vietnam service until October of 1973, when it was redeployed to Yokosuka Japan.
*On 21 August 1976, a Navy task force headed by the Midway made a show of force off the coast of North Korea in reaction to an attack on two U.S. Army Officers.
*Midway continued serving in the Western Pacific throughout the 1980's.
*Tragedy struck Midway on 20 June 1990. While conducting routine flight operations, the ship was badly damaged by two onboard explosions.  The explosions, caused by a fire below decks,  led to a larger fire that raged for more than 10 hours, leading to the deaths of two crewmembers, with nine others injured.
*In November of 1990 the Midway a Naval group called Battle Force Zulu in the North Arabian Sea.
*Operation Desert Storm began on January Seventeenth 1991 at 2 am when the Midway, the Ranger, the John F. Kennedy and the Saratoga launched 228 sorties from their decks.
*Desert Storm officially ended in February of 1991, after which the Midway departed the Persian Gulf on March 11th, steaming for Yokosuka, Japan.
*In August 1991, Midway departed Yokosuka for the last time and returned to Pearl Harbor. She was decommissioned at Naval Air Station, North Island and then made her way through Bremerton, WA. To her final mooring in San Diego, California.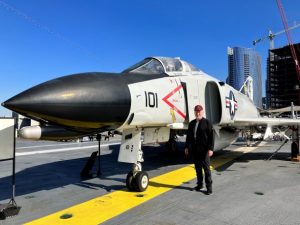 George next to an F-4 Phantom on the deck of the Midway
Postscript:  While onboard the Midway, I once again reunited with one of the planes I guarded while in Germany, the F4 Phantom.  My wife and I also took a spin in a flight simulator.  Being the manly man that I am I said I would be the pilot.  The ride lasted around 8 minutes and by the time it ended I was sick to my stomach.  We must have flown upside down for the full eight minutes.  I had rubber legs when we got out, my wife was fine.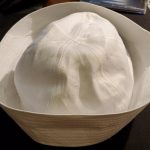 Maybe I should have joined the Navy!  🙂
                              ***
You are welcome to share this post, in it's entirety, crediting Joe and his guest writer when applicable. Copyright protected © all rights reserved, Joe Campolo Jr.