Copyright protected, all rights reserved © Joe Campolo Jr
Historical Fiction:
The Kansas NCO Trilogy
Book 1:

The Kansas NCO

– Published 2014

Book 2:

Back To The World

– Published 2016

Book 3:

Three Wars

– Published 2018

Non-Fiction Anthology:
On War, Fishing And Philosophy – Published 2021

Note: On War, Fishing and Philosophy has been selected as the 53rd best fishing book of all time, by "Book Authority" an on-line literature website
Red Engine Press
and more non-fiction anthology..
Newly Released on Storyworth
Stories From Grandpa Joe – Published 2021

A collection of short stories and photos based upon events and activities throughout Joe's life
(Contact Joe to order)
Hot desert action, fast moving cars, with bad guys and good guys galore. What's not to like?
∼Art Reagan on Back To The World
The Kansas NCO Trilogy is a work of art, carved out of the American experience in the mid-twentieth century.
∼Shelley Hathaway
I've read each book three times and am trying to wait a respectable amount of time, so I can read them again.
∼Loren Schaeldt
On War, Fishing and Philosophy has something new on every page. So many stories about our war and our time there. I highly recommend this book for every Vietnam Veteran and anyone who wants to know more about our war and the men who fought it.
∼Allen Wood
The Kansas NCO is just fantastic.

∼Dan Fluck, U.S. Navy Veteran
Back To The World belongs in film.
∼Howard Killigan
Three Wars left me in tears, such a wonderful story.
∼Florence Klappa, Wife of a WWII B-29 pilot
Thank you for all the kind notes, regarding my books and blog stories. I am happy so many people enjoy them.
∼Joe
Books are mirrors: You only see in them what you already have inside you. – Carlos Ruiz Zafón, The Shadow of the Wind
Endorsements for On War, Fishing and Philosophy are in!

On War, Fishing and Philosophy has been selected as the 53rd best fishing book of all time by BookAuthority!
Joe Campolo Jr has compiled a wonderful collection of his words and thoughts in this collection called On War, Fishing & Philosophy. Already a fine novelist, Joe's observations and anecdotes cover a wide range of subjects, from war to fishing in Wisconsin lakes. It is a fun read.
~Tom Keating, Author, Yesterday's Soldier
I enjoyed all of the articles, and bits of thought in On War, Fishing & Philosophy. Joe writes about serving in the Vietnam War, his articles are very interesting, yet not bitter. Joe also covers other life events, where he shares more philosophy, and a good bit of humor. I thank Joe for this book.
~Rick Wehler, Author of the Minne-Sconsin book series
Joe's latest book features a nice bunch of stories that we can all relate to. I very much enjoyed reading On War, Fishing & Philosophy as it brought back many memories for me.
~Peter Beining, USAF Vietnam War Veteran
I really enjoyed On War, Fishing & Philosophy, a book of short stories and philosophical thought by Joe Campolo Jr. It is icing on the cake for The Kansas NCO trilogy. Entertaining, insightful and a fun read!
  ~Ted Kmiec, Partner at Kmiec and Noonan, LLC
On War, Fishing and Philosophy is a reminder that serving under wartime circumstances as a young man both exaggerates and changes who he becomes. It not only frames author Joe Campolo, Jr.'s own experiences and reactions to the Vietnam War, it explores who he has become as an author, a veteran, a husband, and a father. The author shares not only his own views of war but those of other veterans and authors who were touched by those times in different ways.
But in this book, Joe Campolo, Jr. doesn't write just about war, he goes on to celebrate "what happened next," lifelong friendships, and family. Joe's journey resembles the paths many Boomers traveled in the years that followed the turbulent 1960s and 70s. The reader will recognize life stories covering all the things that went right and a few that didn't work out quite as expected. That so many of these tales revolve around fishing in some form or another makes the reader chuckle while shaking his or her head and going, 'Oh, yeah! That's like the time when…"
The reader will want to reach for a liquid refreshment before tackling the last section of this book. The greats — you know, Socrates and Dorothy Parker and Spiro Agnew and Albert Einstein and Vince Lombardi and Al Capone — and of course, Joe Campolo, Jr himself — will entertain, educate and tickle your fancy.
On War, Fishing & Philosophy is a colorful coffee table book that celebrates life — the good, the great, the wise and the fishy.
~Joyce Faulkner, Co-owner, Red Engine Press and Author
Three Wars, the third book in The Kansas NCO trilogy, has received critical acclaim.
What people are saying about Three Wars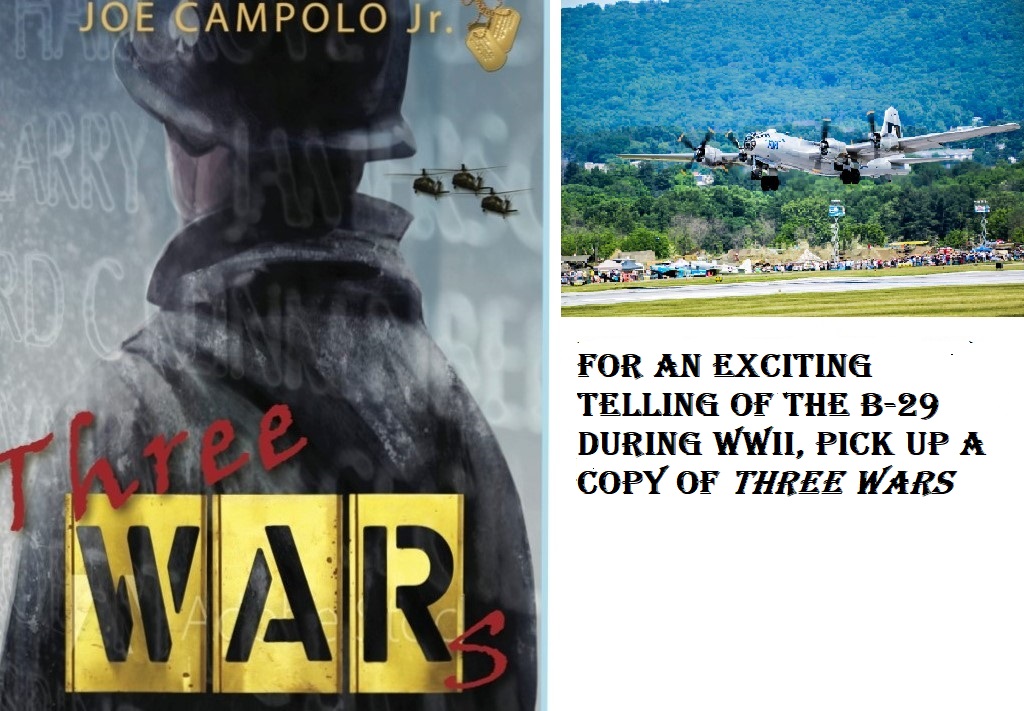 Three Wars by Joe Campolo

, Jr. is his latest and best book, so far.  As the end of The Kansas NCO trilogy, it completes the circle and brings to life the interesting characters in his first two books in this series!  Any reader interested in the military and/or military history will find it intensely interesting.  Having participated in the third of the three wars on an Aircraft Carrier in the Gulf of Tonkin and losing an Uncle in WW II, I found that this not only provided a measure of closure for me, but a feeling of satisfaction and warmth.  I highly recommend this book and thank the author for Three Wars!

– Charles Vinroot, Captain USN(Ret), Vietnam War Veteran
Three Wars is a perfect prequel to The Kansas NCO trilogy, bringing the story together and on to it's conclusion. It truly was inspiring to see how the three families became heroes and warriors, doing their best to bring peace during times of war. It has been quite the journey to see the characters grow and develop throughout the trilogy and how the stories and families intertwine and inspire. Like The Kansas NCO and Back To The World, Three Wars was impossible to put down, opening up superbly by leading into the very first book where the journey started.

The Three War's finale is powerful and upbeat, leaving the promise of hope for the future.

– Adam Honey
Three Wars is a compelling and inspirational finale to The Kansas NCO trilogy. A prequel, the families of the beloved characters from the first two books struggle through war and peace, culminating when the young characters from The Kansas NCO and Back To The World depart for their harrowing tours of duty in Vietnam. I strongly recommend Three Wars, a heartfelt story of three families who prevail through war and triumph in peace.

– Maria Theresa T. Booth, Special Education Teacher
Three Wars is a vivid telling of the lives of three families and the men who fought three very different wars—World War II, Korea, and Vietnam. Joe Campolo, Jr. skillfully uses war as a backdrop to examine the American experience of war in the Twentieth Century both overseas and at home. This satisfying story is ambitious in scope and gripping in its depictions of battle. Highly recommended.

– Micki Voelkel; University Professor and Researcher, University of Arkansas-Fort Smith
Much has been written about WWII, Korea and Vietnam, and authors typically focus on the differences between the three wars.

Joe Campolo Jr, in his new book, Three Wars, pinpoints the commonality of war and relationships. He understands that although battlefields exist in diverse settings, humans respond similarly. He writes with an authenticity that is critical in historical fiction. His insight into the human psyche and perception of the ties between generations make him an extraordinary storyteller.

– Pat McGrath-Avery. Author
Three Wars is a great story. Joe Campolo takes us back to the action of WWII (Europe and the Pacific) as well as the Korean War with the fathers and uncles of Crucianelli, Redmond and Montrell the men from the Kansas NCO. Good story telling with lots of drama and action. Three Wars takes us through WWII and Korea to the beginning of the Vietnam war and shows how those wars impacted those fighting as well as those on the home front. Excellent read!

– P.J. Mike.

The Kansas NCO
Buy the Kansas NCO book on Amazon
The Kansas NCO is an intriguing story about a black market operation during the Vietnam War. Rogue members of the operation set-up a large heroin purchase, and for expediency target those carrying out the operation for death. The Kansas NCO is a tale of greed, betrayal and redemption. The book has received an award for historical fiction from the Authors' Zone.
In addition to Amazon, and Barnes & Noble, The Kansas NCO is offered in dozens of on-line book stores in paperback or Kindle, and is also available in over seventy nations worldwide. Be sure to pick up a copy of the sequel, Back To The World!
What people are saying about The Kansas NCO
Although this book is fiction much of it is based on fact and personal experience. The author (Joe) was able to capture the several faces of the GI in Vietnam. He conveys how easy it was to go from mundane, boring days to life threatening situations in the blink of an eye. He shows the frustration, confusion and terror each GI felt at one time or another during his tour.

– Gary Labanow, USAF Vietnam War Veteran and retired airline pilot
The Kansas NCO is a top-notch war story that gains momentum as it goes along. Totally absorbing, with a great stinger at the end, this book will keep a reader turning the pages to its conclusion. Lots of action, as one expects, but it also speaks volumes about war and its effects on those placed in the middle of it. Highly recommended.

– Michael Schumacher, author of Mighty Fitz, Wreck of the Carl D., and November's Fury
The Kansas NCO is an easy read and hard to put down. Anyone who had boots on the ground in Vietnam would enjoy the believable characters, plot, and will easily relate to this story. The terms, phrases and descriptions of the climate, terrain, wildlife and the enemy strike vivid memories of those times.

– Ed Heyward, U.S. Marine Vietnam War veteran

Back To The World is also an award winning book;
The long awaited sequel to The Kansas NCO is a page burner. Find out how the survivors of The Kansas NCO survived when they returned home.
What people are saying about Back to the World
Back to the World is a well-crafted follow-up to The Kansas NCO. Joe Campolo allows the reader to experience the frustrations of returning Vietnam veterans whose country abandoned them. Joe is able to take you from the jungles of Nam to the mean streets of America. God Bless all our veterans.

– George Dooley, U.S. Air Force, Vietnam era veteran
Once in a great while, a reader will come across a book that is so engaging and captivating it is very difficult to put down. Back to the World, by Joe Campolo Jr. is such a book. The author is a superb storyteller; the book is a fast paced suspense thriller. Great job, Mr. Campolo!

– John Podlaski, Vietnam War veteran and author of Cherries: A Vietnam War Novel
In Back to the World, Cru and his buddies have survived their life-threatening experiences in Vietnam, but their return to the "World" has not gone as smoothly as expected.   In a fast-paced sequel to The Kansas NCO, we get to see how Andrew Crucianelli and his crew deal with a country that has little regard for their post-war future.

– Dick Evenson, writer, retired marketing executive, and U.S. Army artillery veteran
Joe Campolo has hit another homerun with Back to the World!  This fast paced thriller keeps you on the edge of your seat as it follows the trail of two vigilantes challenging the Mob!"

– Bob Doerr, Award winning author of the Jim West mysteries.