What we learn with pleasure, we never forget. ∼Alfred Mercier
                                               ***
I somehow managed to snag two higher education degrees in my day, one in engineering and the other in business, and with them I made my living. Having those two disciplines served me well throughout my career; not bad for a dedicated slacker. 😉
However, while attempting to master the intricacies of engineering and acquiring the needed business acumen, the subject of history was always my true love. From early on, I enjoyed learning about one phase of history or another.

After seeing the film The Egyptian in my younger days, I read everything I could about ancient Egypt and those who occupied the land of the pharaohs. I fairly walked like an Egyptian, during that time. 😊 I read up on many other ancient dynasties, and became smitten with those as well. The behavior and habits of the ancients really grabbed me.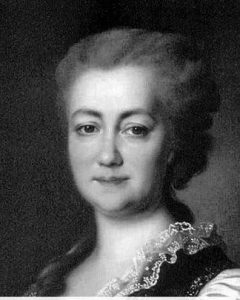 "I shall be an autocrat, that's my trade, and the Lord will forgive me, that's his." -Catherine the Great
In 1971, stationed at March Air Force Base in Riverside, California, having served one year in North Dakota and one year in Vietnam, I was taking advantage of all of the opportunities Southern California had to offer; making up for lost time so to speak. With a bit of a guilty conscience, realizing I was having way too much fun, 😉 I started attending class at Riverside City College. Riverside City College offered a Russian history class, which naturally piqued my interest and I jumped in feet first.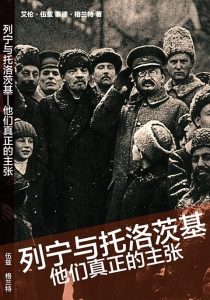 Lenin and Trotsky; two zany old dudes!
From Riverside City College, until I finished attending university many years later back in Wisconsin, I was hooked on Russian history, and took at least ten Russian history classes during that time. My best friend, Jim, joined me in some of those classes and we had a fine time rehashing the Czars, Proletariats, and Commies during the time we attended, and for many years after as well.

For over forty years, starting in the 1960's, the University of Wisconsin Parkside, in Kenosha, Wisconsin boasted two very esteemed professors in Russian history. And although I can't recall the name of one of them, the other one I became very familiar with. Oliver Hayward came to Wisconsin from somewhere in New England, bringing with him a set of manners one would expect of someone from that neck of the woods, along with a kindly, cheerful demeanor and a keen intellect.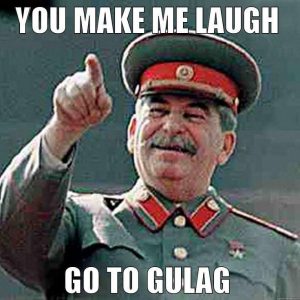 "Uncle Joe" Stalin provided a lot of material for Ollie.
"Ollie" was steeped in all facets of Russian history, going all the way back to the 9th century, but his real area of expertise encompassed the 19th century through the late 20th century. Ollie was at his best when discussing Alexander Herzen, the various wars between Russia and the Ottoman empire, the emancipation of the serfs, the duma, and all of the activities of the Bolsheviks, Mensheviks and communist party members who followed.

Several of Ollie's history classes culminated in a trip to the then Soviet Union. Months of planning, getting necessary approvals etc., were required and students had to fund the trip themselves, but those fortunate enough to go had the experience of a lifetime. I was not able to make any of those trips, and was envious of those who did.

At the end of each semester, Ollie reserved one class period for a celebratory Russian banquet. Each student brought a Russian dish, a boom box playing traditional Russian music would be featured, and many attended the event in costume. Russian caviar and borscht would be served, and French champagne was always on hand. I myself brought Stolychnaya vodka for two or three of those events.
And although an academic endeavor, our Russian feasts often ended as one would expect a Russian feast to end; a bit of drunken ribaldry, a few romantic trysts, and the occasional brawl.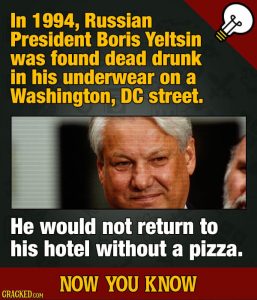 Now those stodgy old Bolsheviks might not have approved of our activities…but Ivan the Terrible, Catherine the Great, and most certainly Boris Yeltsin, would have felt right at home. 😊
                                            ***
*Ollie is no longer with us, however I'm sure he would be very disturbed by the actions of the current Russian regime. No doubt he's spinning in his grave.
You are welcome to share Joe's blogs on Facebook or any other media, in there entirety with citation acknowledging Joe as the author. Copyright protected, all rights reserved © Joe Campolo Jr.