Today's guest article is provided by Rhonda Underhill. Rhonda is a health care advocate for senior citizens.
After a health crisis involving her husband Pete, Rhonda and Pete dedicated themselves to healthy living through diet, exercise and awareness. Rhonda created http://www.getwellderly.com/ a website dedicated to the health and well being of seniors.
Rhonda's latest article is dedicated to the Veterans in our community. It may be of benefit to veterans you know and their family members.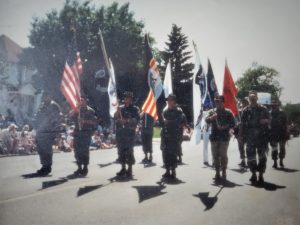 Ways You Can Best Help the Veterans in Your Life
Most people realize the sacrifices military personnel and their immediate families make on a daily basis. After all, they're the people who put their lives on the line to make sure the country remains a safe place to live. So, it's not difficult to give back to those in your life who have served in the military and show some gratitude.
If you want inspiration on how to show your appreciation for those who make sacrifices to keep this country safe, these ideas are a good place to start.
Reassess Their Living Space
If you're close to a service member or veteran, it might be a good idea to reassess their living space. Is the home still suitable for their needs?
Sometimes, those in the military sustain physical injuries or negative mental effects, such as depression, post-traumatic stress syndrome, or anxiety, and one way to make life easier for those who have served is to encourage them to live in a space that is appropriate for their lifestyle.
For example, a large two-story home might no longer be suitable for someone with an injury to their back or legs. If your loved one experiences depression and anxiety symptoms, they might be happier living in a tranquil location close to greenery and nature.
Some veterans are also eligible for VA loans, which can be a great help financially. VA loans allow ex-military members to purchase a home with no money down and without obtaining mortgage insurance.
Find Appropriate Medical Care
Sometimes, it's hard for veterans to disclose the negative impacts their service time had on their physical or mental health, so they may be reluctant to seek the appropriate care. If you suspect your friend or relative may need help finding suitable medical care for an injury or a mental health issue, consider researching relevant physicians and specialist counselors in your local area.
However, discussing someone's health is a sensitive matter, particularly if it's related to trauma. Remember to suggest the prospect of medical care in a compassionate, tactful way.
Help Them Retrain
One issue many veterans encounter after leaving the military is that their work history doesn't align easily with civilian job description requirements. Depending on their age, ex-military members may want to continue working after leaving the service, and this misalignment can make it hard.
Additionally, organizations like the U.S. Department of Veterans Affairs offer programs, such as the Veterans Retraining Assistance Program, to provide help to those who wish to retrain. To be eligible for the Veterans Retraining Assistance Program, veterans must:
Be between the ages of 22 and 66
Not be unable to work due to a disability
Not be part of a federal or state jobs program
Helping your loved one retrain or begin their own business is an excellent way to keep on top of a veteran's mental health and ensure they retain their sense of self-worth.
Reach Out
While reassessing their living space, seeking medical care, and retraining are great ways to help ex-military service members and veterans, the most important thing to do is reach out and be there for your loved ones.
To find out what your veteran has been through, read some of the many relatable articles available on the internet. Author Joe Campolo Jr has a website, www.namwarstory.com with some excellent sources for veterans assistance on his links page. On his blog page, there are many fine articles relating to war and military issues. Joe's excellent books relating to war, are also available through his website and Amazon.

You are welcome to share Joe's blogs, in their entirety, crediting Joe, and his guest writer when applicable. Copyright protected, all rights reserved © Joe Campolo Jr