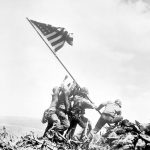 Introduction
World War II was the largest military engagement in the history of man. Some sixty million people or three percent of the world population perished in the calamity, with many more millions wounded and maimed. During that time, sixteen million U.S. citizens served in the armed forces, of which over four hundred and fifty thousand were killed and some six hundred thousand wounded. Many millions of U.S. citizens also served on the home front; aiding the war effort in various ways.
Sprouting from the unfinished business of earlier wars, the Axis powers of Germany, Italy, Japan and their allies, fell into totalitarianism manifested by tyranny, nationalism, aggression and genocide. Great Britain, the United States, the Soviet Union, France, China and their allies opposed the Axis powers. The war began in 1939 and ended with the fall of Germany and Japan in 1945. Many trillions of dollars were consumed fueling the war, and when it was finally over many nations lay in ruins.
Many of us today are connected to the war through our fathers, mothers, grandfathers, aunts, uncles and other relatives who served in the war or kept the home fires burning. We are fortunate to have heard and read about many of their personal stories during that time.
Today's guest writer is George C. Dooley. Mr. Dooley served in the U.S. Navy from 1942 to 1946. Dooley served on the U.S.S. Ruby, a civilian yacht that was converted into a minesweeper. Although he passed away in 1995, we are fortunate that Mr. Dooley kept a diary of his service during that time and it has been made available to us. Like many who served during times of war, Mr. Dooley's memoir reflects periods of boredom, excitement, fear and hope.
I became friends with Mr. Dooley's son, George S. Dooley, while we were both living in Southern California in the early 1970's. George S. Dooley is a United States Air Force Vietnam Era Veteran. George and his wife Diane live in the state of Washington near his son and grandson. I am grateful to George for making his Dad's diary available to us.
Please enjoy George C. Dooley's World War II diary, in his words:
On the 10th of April 1945 we left Key West, Fla. for Panama City and through the canal where we arrived at 7:30 April 20, 1945.  After spending a day there we left on the 22nd for Pearl Harbor.  After a 16 day trip we arrived at Pearl Harbor on the 16th of May.  After spending a two week stay there and having a grand time we pulled out June 8th for Enewetak.  After 3 days of travelling we arrived there safe and sound also on the 12th of June.  We stayed there for two weeks and then pulled out for Guam.  We arrived there on the 25th of June in which I met an old buddy Chris Fields. I surely had a grand time there and then after a swell time we left then on the 8th of July for Okinawa. Since we arrived here, we had two alerts and so far no action.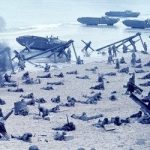 On the 8th of August I witnessed my first air attack and bombing in  which the plane dropped his bombs and then in a few seconds crashed only a few yards away from us which sent up a large cloud of smoke and flames. Since this attack they have been coming over every night.
Well on the 10th of August I seen some of the largest gun fire after the Japs had announced they were willing to surrender and we accepted.
Sunday morning August 11th 1945 we were waiting patiently for the word of surrender and at 0900 no word as yet.
While at anchorage at Naha Bay, we had one of the closest calls ever to see while on our way for fuel. We came within ten feet of being blown up because of Japanese floating mine but of course luck was again with us and after a few hours, a minesweeper picked it up.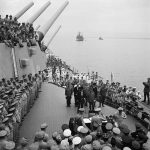 On the 14th of August at 2:15 while listening to the radio and important broadcast came over that the Japanese had offered to surrender and on the 16th we had received word that the war was over.  This was one of the happiest moments of my life.  On the 16th of August we had orders to go on the ping line until further notice.  While on the ping line we were ordered back to Hell's Anchorage to take a supply and oil and to stand by.
On the morning of the 30th we had orders to report with the greatest force of mine sweepers ever assembled out here and then we pulled out for our destination which was between the Yellow Sea and thru the strait to the Sea of Japan.  On the 1st of September we arrived at our destination and so far good luck is with us.  After this sweep was over we were ordered to move over to Nagasaki and on this sweep we had gotten six mines to our credit.
On the morning of Sept. 18th 1945 we pulled into the naval base of Sasebo which of course is one of Japan's greatest.  There were quite a few Jap ships but none of any value to them.  They were either hit by our ships or beached to save them.  This place is located just north of Nagasaki and we were one of the first ships to arrive here and also at Korea and Nagasaki.  Today we are waiting for a typhoon to pass over.  After a two day stay there and of course safe we heard that one of the mine sweepers had capsized and only one man was found. On the morning of the 20th we came back to Natura Shim and stayed there until Sunday morning which of course was the 22nd of Sept.  About 0530 we were under way this time to go straight into Nagasaki and I witnessed the mass landing of occupational troops to land here and also seen where the first atomic bomb was dropped.  It sure did a great deal of damage and after a few hours there we came back to Anchorage.
From the 23rd of Sept. until the 1st of October we have been carrying mail to Natusu Shina and to Sacebo Hanbar and back.  So far there has been quite and a few rumors that we will be on our way back to the States before Christmas, but as of yet no word.  All this week we had boiler trouble and as of yet has not been fixed.
Well today October 3, 1945 we were given liberty in Sasebo, Japan and the town what was left of it was pretty good and the Japs treated us good and the little children were always begging us for cigarettes and in exchange gave us Jap money.  I really had a swell time and it was the first liberty in six months.  The place was very dirty and it was a complete loss to the Japs.  All their main buildings were completely destroyed by our bombs and only a few remained.  I got some souvenirs and also some Jap money and spent a swell day looking around.
Since the third until the 26th of October we have been in Sasebo and getting liberty every other day.  I went on a souvenir party and now have a Jap rifle and bayonet.
On the 26th we went on another mine sweeping job which ought to take around fourteen days.
Today October 29th we went out and we now have seven more mines to our credit.  We are now anchored in the Yellow Sea just north of Okinawa.  We came back from this sweep safe and sound and since this time we have been anchored in Sasebo harbor.
On the 18th of November we received word that this ship would return at last on the 20th of November for the states.  Everyone is excited and some men are going to be transferred.  I have my fingers crossed that I will stay aboard to bring it back.
Nov. 19th 1945 we are to take on supplies this date.
The ship has three stops before reaching the states
Eniwetok, Pearl Harbor and then on to San Diego.
With luck I expect to be on it.  Well today I was the happiest fellow in the Navy because on this date the 20th of Nov. at 4:30 we set out for the states and it was a wonderful sight to see our homeward bound pennant flying.  I waited a long time for this day and was very happy to leave Japan because I had seen enough of it.  Our first stop on the way back to the states is Eniwetok and then on to Pearl Harbor.  We are scheduled to arrive there on the 5th of Dec. but it may take longer.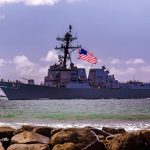 We arrived at Eniwetok on the 29th of Nov. at 0830 and left there on the 30th.  So far from Eniwetok we had swell weather.  We are now scheduled to arrive at Pearl Harbor on the 9th of December. After a short stay we pulled out of Pearl Harbor for San Diego, CA.  We arrived there on the 21st of Dec. at 0900.  While there I had a swell time and also had the chance to go across the border into Mexico.  I really enjoyed myself in San Diego and also Hollywood, Calif.  We left San Diego on the 30th of January now heading for Key West, Fla.  Tonight on the fourth of Feb. just four days away from Panama.  We arrived at Panama on the 9th of Feb.  Spent a good time there and left Panama on the 12th of Feb. for Key West, Fla.  Had a swell trip and pulled into Key on the 18th of Feb.
Today Feb. 28th 1946, I just have 15 more days left before leaving the ship.  On the 14th of March I left the ship to go to the receiving ship which is located in Key West.  I arrived there at 10:00 and spent seven days there and on the night of the 21st we left Key West by bus for Miami, Fla to catch the 8:10 train for New York.
We arrived on the twenty second in New York and got on the train for Boston and arrived at the Largo building at 7:00 clock and three days later was a civilian once again.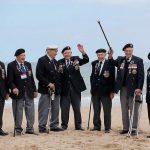 This ended my Navy career after 3 and a half years.
Thank you Mr. Dooley, God bless you and all of our Veterans and may God Bless America!