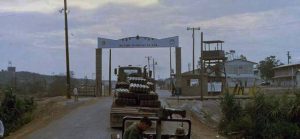 In this article guest writer Dave Wagenblatt recalls his arrival for duty in Vietnam, and his first few weeks there. Dave served in the United States Air Force in the later stages of the war, and though assigned to base supply, Dave was also tasked with various other duties at Phu Cat Airbase, including guarding the perimeter of the base, which was in the volatile province of Binh Dinh . Never fully pacified during the war, it was estimated that forty to fifty percent of the inhabitants of Binh Dinh were Vietcong or Vietcong sympathizers.
Dave and I arrived at Phu Cat at the same time, and were assigned to the same unit, though our duties varied, depending on need and circumstance. Phu Cat, a mixture of stateside amenities and wartime terrors, was attacked a dozen times by stand-off rocket and mortar attacks during the year we were there. It was also subjected to sapper attacks, and one gas attack during our tour of duty, and although we were not fighting for our lives everyday like the grunts, (God bless the grunts) there was no doubt we were in a war zone.
Please enjoy Dave's story.
                                       ***
                                Welcome to Vietnam

As the Vietnam War raged, it was business as usual back home
The year was 1969. The same year man first walked on the moon and the Woodstock Music Festival was held. Both out of this world. It was also the year I received orders to leave this world and go to Vietnam. On November 19, 1969 orders were cut assigning me from the 4th Mobile Communications Group (AFCS), Altus, Oklahoma 73521 to the 37th Combat Support Group (PACAF), APO San Francisco 96368. I was to fly on a military aircraft on January 15th, 1970 departing from Travis AFB, California.
While at the Altus AFB, I spent a much of my off time in the base gym working out and playing basketball. One day while the base basketball team was practicing, I was spotted by their coach, an Air Force Captain. I was dunking a basketball on a side basket. He asked me to play on the team until I left to take leave in mid-December before departing for home and the other side of the world, Vietnam. As it turns out we had a game scheduled against the Air Force base team in Houston on the same week- end the New York Jets were playing the Houston Oilers in the Astrodome. What a thrill! We got to see Joe Willy Namath play the same season in which the Jets won the Super Bowl. I then went home for 30-day leave.
In January I boarded a plane headed to Vietnam with stops for refueling in Alaska and Japan before reaching our final destination. I believe it was 20 hours of flying time crunched into one of those airplane seats. All the while wondering what was in store for the future. What FUN! Highlights of that flight were seeing an 11 foot tall polar bear in the Anchorage airport, seeing the lights of Tokyo and then Mount Fuji off in the distance in the early morning.
The C-130, USAF workhorse of the Vietnam War
We landed at Cam Ranh Bay AFB which was also a deep water port in South Vietnam. Upon disembarking the plane, the first memory I have is activity everywhere. I looked up as a helicopter buzzed us with guys hanging out the side, smiling, waving and welcoming us to Vietnam. It was surreal. I received instructions and proceeded to where I would get my flight on a C130 aircraft to my new duty station, Phu Cat AB, RVN. I couldn't see anything since there are no windows other than for the pilots. We were notified of our approach and all of a sudden we were losing altitude quickly and I realized we were doing this to shorten the time we might be exposed to enemy fire as we landed. What a rush!
There were several of us on this flight who were greeted at the terminal by personnel who checked us in and assigned us to temporary barracks. We would start orientation the next morning. While doing this an airman who was getting ready to leave for home stopped me to say hello. He remembered me from delivering the morning paper to my uncle in Gowanda, N.Y. when I was a kid. We had moved and Tulsa, OK was now my home until the USAF. WOW! Here, 13,000 miles from home on the other side of the world. I didn't sleep much that night talking with others trying to find out what to expect.
The next day I was taken to where I would be working and introduced to everyone. A person was assigned to make sure I got to the orientations and to get jungle fatigues, jungle boots, helmet and flak jacket issued. I was also shown around the base and issued a mail box. From anywhere on base, we could see flags poles by the post office. There was of course a U.S. Flag and also pole where a flag would be raised when new mail had arrived and had been put up. There was another pole with a color code based on enemy activity and intelligence for the area, essentially advising us on how impending an attack might be that day.
I started settling in and doing my job which was working in supply. I would have additional duties later. In my off time there was a basketball tournament played on an outdoor court. There was the NCO club. We could send letters home by writing free where a stamp would typically be placed and I took advantage of it. About a week after I arrived, a friend, Bob Oldenski who was previously stationed me with for technical school at Lowry AFB in Aurora, Co (next to Denver) showed up at Phu Cat as well. We managed to get ourselves assigned to the same barracks. Bob was from the Pittsburgh area.
I recently read a letter I had written to mom and dad dated January 30th, 1970 in which I mentioned it had been two weeks and we had not been hit yet. Little did I know! I have not told the following story much because it had such a profound impact on my life and changed me forever.
February 2nd, 1970 started off as usual. I was up showered, got dressed and ate breakfast at the chow hall. I stared walking to work which was I am guessing 700 to 800 yards away. It was still dark. This particular morning, I was lucky. After walking a couple hundred yards, a friend driving an empty ton and a half truck going to the same place stopped and offered a ride. I gladly accepted and hopped up in the back bed of the truck. As we pulled up to my drop off while leaning up against the cab looking straight out the back, I saw a huge explosion with a mushroom of red/white streaks radiating from it. It was a rocket attack!!! The first rocket had hit where I would have been if it wasn't for this truck picking me up! I dove out the back of the truck looking for a ditch but there wasn't any so I hugged the ground and covered my head as it started raining rockets. I was never so scared in my life and haven't been since. I was praying 10,000 words a minute! After what seemed like an eternity it stopped and I ran to a building and got under a desk for more protection. It still makes me shake thinking about it over 50 years later.
That morning is embedded in my memory forever. Sudden loud noises among other triggers take me instantly back there in my mind. I walked back to the barracks later that day and saw the shrapnel holes in the Quonset Hut where I would have been when that first rocket hit if I had not gotten a ride in that truck. One of the rockets had hit the terminal next to the runway and I saw holes in our barracks from shrapnel as well.

Joe made this etching of Bill Follon's name on "The Wall" when he visited Washington D.C. some years ago
We learned that one airman was killed and almost two dozen were wounded. The airman killed had delayed his departure from Phu Cat to Cam Ranh Bay and ultimately back to the world. He did this in order to play in the basketball championship game the night before this happened. I played in this game as well. I didn't know his name until 50 years later. His name was William E. Follon, from Iowa. May you Rest in Eternal Peace.
As long as I live you will not be forgotten.

Dave on duty
I may continue to try writing another time there but it is hard as you might imagine. None of us who served there are the same person who went there. There are things which happen daily which take us back there in our minds eye.
                                     ***
Dave now spends his time as a wildlife photographer, enhancing his photos artistically. His work may be seen on his website:
https://davewagenblattphotography.com/?fbclid=IwAR2DqYE6HgiyxbMazE-8OoOaHZr1i8I1L91xAIZSHW7kofSDBuoCwAVQAns
You are welcome to share this article, please credit Joe and his guest writer for the work. Copyright protected © all rights reserved, Joe Campolo Jr