Humor comes at us in many places and many times throughout our lives, and it is always welcome.
~Joe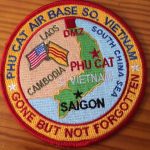 I was a member of the United States Air Force from 1968 to 1972. I served at Phu Cat Airbase, Republic of Vietnam from January of 1970 to January of 1971.
As I kept requesting a transfer out of supply into civil engineering, when I first arrived at Phu Cat I was assigned to a civil engineering detail headed by the Red Horse Squadron. The detail involved building a water pumping station by the river near Phu Cat so the villagers would not have to hand carry water from the river in buckets, as they had been doing. A dangerous endeavor, particularly after the sun went down. Unfortunately, because of Vietcong intervention that project ended in disaster and was subsequently canceled. The Civil Engineering squadron soon redeployed to Bien Hoa and as I had no acquired skills as of yet, I was transferred back to supply and remained at Phu Cat, traveling to other areas as duty required.
Within weeks of the incident, the Phu Cat village chief started pestering the base commander again. The village needed running water. In time, a solution was developed; a well would be drilled by the main gate at the Phu Cat airbase which was on the northern edge of the village. Since the main gate was heavily guarded twenty four hours a day, the risk from Vietcong sabotage would be greatly reduced.
Soon U.S. Air Force maintenance teams were hard at work. They drilled the well, built an open-air shelter around it, tested it and released it for use.  A formal dedication ceremony with base and village leaders was planned.
However the first morning after completion, before the dedication ceremony was to take place, an older village woman walked purposely out to the new well, with several younger women and children in tow. U.S.A.F. personnel on hand watched with curiosity, expecting her to be the first customer to collect a nice fresh bucket of water.
To their astonishment, the old woman entered the shelter, scooted her black pants down, hopped on the well and defecated. About half the men on hand started yelling, while the other half roared with laughter while cheering the old woman on. A call was placed to the engineering squadron, who immediately arranged a meeting with village elders. The elders were ordered to instruct all villagers what the well was intended for, and how to properly use it. A sign was put up with a picture of a person defecating in the well with a large black slash through it, intending to convey what NOT to do in the well.
After getting bleached out, the well was released to the village and soon villagers began using it for its intended purpose, although according to rumor the old mama-san would sneak in at night and use it as her private toilet. As for myself…I made it a point never to drink from it!
You are welcome to share Joe's blogs, please credit him and/or his guest author if applicable. All rights reserved, © Joe Campolo Jr