Don't walk in front of me… I may not follow
Don't walk behind me… I may not lead
Walk beside me… and be my friend
―
My friend Dave and I arrived at March Air Force Base in Southern California at about the same time, both having just returned from a one year-tour of duty in Vietnam. It was 1971, and the times they were a-crazy. Dave and I struck up a quick friendship; he called me Eyetie Joe, I called him Portuguese Dave.
In Southern California we hit the ground running, visiting nightclubs and bars in nearby Riverside on a nightly basis. We'd start out at the NCO club on base, then move on to our favorite hot spots in town. The Gasser was our first stop in Riverside, a jumping place, that came with all the attractions of the times; hippies, rock music, booze …and drugs; for those who wanted them.
If nothing held us at The Gasser, we usually moved on to The Equestrian, a swanky bar attached to an upscale restaurant. The Equestrian was a one hundred eighty degree turn from the Gasser; it featured a restrained older crowd seriously into their cocktails. Lounge music, just one or two steps above elevator music kept the patrons in check. We were always looking for action, and having met an older woman there one night, Dave insisted it remain in our itinerary.
Our last stop most evenings was a nightclub called The Dunes. The Dunes featured rock and roll knock off bands, and they were usually damn good. The Dunes was populated by a mixed crowd; wealthy college students fueled with cash from mom and dad, locals out for a special occasion, a few stray airmen from the base, and a dedicated older crowd with deep pockets.
Our favorite bartender at The Dunes, on those nights we visited, was also named Dave. He was an excellent bartender, who made sure the expensive drinks he poured were strong enough to make them worthwhile.
Lilly was an older woman, that Portuguese Dave and I had met at The Dunes early on. Attractive and intelligent, she was also wealthy. She knew we were just a couple of GIs who couldn't match the balance sheet of most patrons on hand, so she bought us many drinks the evenings she was there. She filled out Portuguese Dave's idea of the perfect woman and he fell in love with her in one or two evenings. Lilly, as it turned out, had an adult daughter who accompanied her to The Dunes on many nights. The daughter and I struck up a cordial friendship, dancing and partying, while Dave and Lilly carried on.
Things went along rather nicely for a few months, but soon it became apparent that Dave was having issues. In Vietnam, the U.S. military implemented a misguided plan of issuing "go pills" to the troops to combat fatigue. The go pills were actually amphetamines, the common street name being white crosses. Not all GI's had access to them, and of those that did, not all became addicted to them…but Portuguese Dave was one that did.
Once back in the states, and in Southern California, Dave readily found stronger drugs to fill in for the white crosses. Back in those days, in addition to marijuana, potent amphetamines, along with LSD, and depressants known as Reds, were readily available on the street. (As was heroin) Dave, like many others during that time, became dependent on the drugs.
I didn't realize how deep into drugs Dave had fallen, until he was in very deep. Predictably, after a time, Lilly lost interest in Dave and moved on. Dave took it badly, and tried hopelessly to maintain the relationship. He sank deeper and deeper into his drug habit and soon found himself in trouble financially, and also with his military superiors on base.
My association with Dave became less and less frequent, as his behavior became more erratic. I urged him to check himself in to the base hospital, and eventually he did. I visited him every few days, and sadly witnessed his descent into insanity.
In June of 1972, my four-year hitch came to an end, and despite the Air Force's best efforts I had no intention of re-enlisting. Before my discharge I visited Dave one last time, however I eventually lost all contact with him, and have no idea of his fate.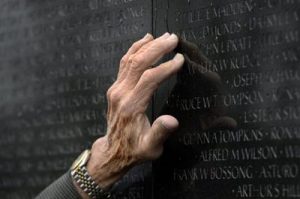 Not everyone who lost his life in Vietnam died there, not everyone who came home from Vietnam left there
Though not physically wounded during his tour of duty, Dave, nevertheless, was another casualty of the Vietnam War.
You are welcome to share Joe's blog articles on Facebook and other social media, in their entirety, showing Joe or his guest author when applicable as the creator. Copyright protected © Joe Campolo Jr