An Angel in Blue
This week's guest writer is Penni Evans. Penni began writing poetry and short essays at the age of fifteen. Encouraged by her grandmother, Amah, herself a writer, Penni dreamed of far-away places and world travel.
After she earned a Bachelor's degree in political science, Penni volunteered for duty with the Red Cross organization. Through them, Penni became a Donut Dollie and was sent to Vietnam.
Vietnam took its toll on Penni as it did with many who served there. After her tour, she spent six months back packing across Europe. She worked for other non-profit organizations and obtained a Masters degree in Human Behavior.
At a Red Cross reunion in San Francisco in 1983, Penni's emotional healings from the Vietnam War began. She started writing poetry which has been published in various Women's and Veteran's venues. She also has been active in many Women's Veteran's issues. Penni currently lives in Colorado with three very close feline friends.
Penni has graciously shared her poetry with me, to share with all. The following is a poem she penned after the Vietnam Women's Memorial in Washington D.C., which she had a part in creating, was dedicated in 1993. I believe you will enjoy Frozen in Bronze.
                                       Frozen in Bronze
Who are you, my sister
I look into your eyes and see my soul
You are frozen in bronze, forever young
What are your memories, your thoughts
What words have been spoken
For your ears only
The secrets you hold in your heart
Are mine also
Will your voice ever be heard
Can the words locked so deep within
Ever be free to drift on the wind
Can the night of the endless dark
Ever become the dawn of a new day
Will we as sisters ever heal
From wounds suffered
In silence a lifetime ago
We were healers
Warriors and angels of truth
No matter what clothes we wore
Nor where we worked
Nor the time we served
Our duties may have been varied
But my sister
We were all together
We can come visit you
And in so doing
We can visit
The self we left behind
So many years
So many tears
So many memories ago.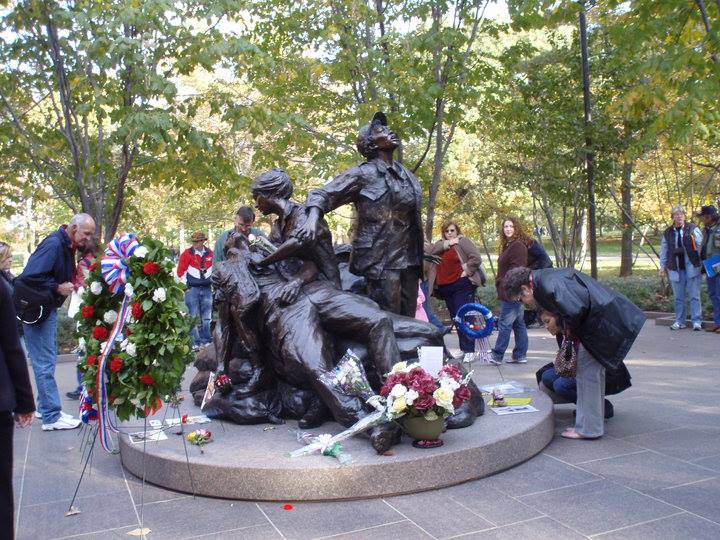 (Click on any photo to enlarge)
You are welcome to share Joe's blogs in their entirety, crediting Joe and/or his guest writers for the work. Copyright protected, all rights reserved © Joe Campolo Jr